1 - Discovering and mapping
Leverage task mining capabilities and process mining technology to analyze desktop user interaction data and seamlessly link it with process details mined from system event data, enabling your organization to enhance operational efficiency, improve customer experience, and accelerate impactful digital transformation initiatives. The software then visually models these timestamps in such a way that you can instantly identify variations from the ideal process flow to find the root cause of a problem that may be costing your business money.

Task mining
Intelligent capture and processing.



Timeline analysis
Visualize your processes and steps from end to end.
Schema analysis
Schematization of your whole cases, from the simplest to the most
ad hoc and
to the most complex.
Path analysis
Compare operations and variations highlighting risky and costly processes.
2 - Analysis and optimization
Develop an understanding of process performance based on the actual data. Consider every step completed by every person, and every machine involved in a process – ABBYY Timeline is a platform that can make sense of all that data, with the ability to automatically organize and visually display your entire process end-to-end. With this insight, it becomes easy to identify areas for process improvement – sometimes in places you weren't even looking.

Detailed case analysis
Identify unexpected problems in the processes and its roots with details.
Process pattern search
Build narrow analysis about conditional patterns in diversified instances.
Workflow / journey mapping
Automatically and simultaneously map equipments and workers performance.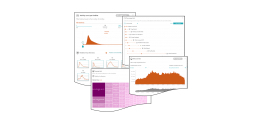 And many more!
Receive variated analytical tools in the knowledgebase.
3 - Monitoring and alerting
Identify inefficient variations and set rules for the process. Alert the right staff or automate remediation to ensure processes are functioning properly and eliminate bad processes before they happen with ongoing monitoring of protocols.
Monitoring and Alerting Videos
Protocol analysis
Especify rules and identify the processes which failed in accomplishing them.
Alerts
Create personalized alerts concerning deadlines, process orders and more.
Side-by-side comparison
Automatically compare your processes pre and e post initiatives side by side, even before they are taken.
Operational dashboards
Define monitoring dashboards to track key processes

.
4 - Prediction and forecasting
Predict the future process state. Combine process mining with machine learning and artificial intelligence to achieve highly integrated and fully automated insights to forecast processes in their future state, and take action to ensure positive outcomes.

Predict potential deviations and address them before they arise.

Predict what events will happen together and ensure that they always happen that way.

Continuously monitor and analyze your data to prescribe solutions.

Utilize the most ideal path and ensure that other processes follow the same format.

Reduce time and costs and ensure compliance in real-time within your processes.